Logistic & Transportation App Development Solutions to Improve Productivity
Our web development service for logistics companies is equipped with necessary and distinct engagement models that are required to bring business to the next level and build it to stand out worldwide.
Well, the transportation business will be thought of as an advanced bunch of operations. Therefore, several businesses lose a lot of their turnover. So, to safeguard the companies beside their turnovers, we at Beta Soft Technology use innovative and latest technologies to create a new age of logistics apps and software systems that manage all business operations. Our result-oriented provision solutions lower down the operation redundancy and attract potency beside productivity that ahead converts into business growth.
Our web development services for logistics and transportation companies provides a comprehensive solution to business by creating a connected, remotely accessible, analytical and monetary management app that smoothens management of the driver, fleet, and order delivery. We are able to conjointly say that we have a tendency to assure that our custom logistics application development associates operational reform that motivates automation, power management, and comprehensive business growth.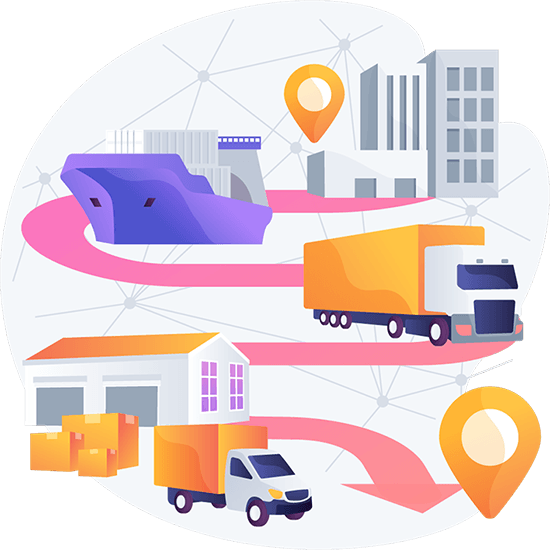 We Provide Feature-Rich Transport and Logistics Web Development
Have a glance at some advanced options that you can avail from Beta Soft Technology, web development company near Delhi for your transportation and logistics software development services & solutions:
Logistical Packaging
The application comes with a logistics and transportation packaging feature that enables the owner to trace merchandise info and have an improved understanding of product packaging material, logos, barcode variety. This feature conjointly ensures that the carrier is protected throughout storage, transportation and distribution.
Warehouse Management
The warehouse management feature lets the owner comprehend the merchandise movement. Also, our logistics and transportation web development company provides you with the elaborated product catalog info regarding the full variety of packed and unpacked merchandise for transportation and distribution.
Inventory Management
The internal controlled feature helps the owner with segregation and placement of products within the warehouse. It can facilitate in resolving the problem associated with storing selection of things received for transportation and keep tracking of the delivery time of the various carriers and items.
Manage Transportation
To avoid and minimize human error, everything has been automatized today. Our logistics and transportation web development company in Delhi provides an app with a transportation module that gives everything right, fleet forwarding, fleet invoicing to delivery chase. Also, it includes trip designing, fuel management, driver safety, etc.
Vendor Inventory
The trafficker managed inventory assists you in streamlining the availability chain operations and maintaining a healthy relationship between owner and vendor. It includes different features like product activity, knowledge communications, product review, order acknowledgment that bring additional transparency to the method.
Material Handling
It tracks the activities of handling raw-materials, movement of the semi-finished and finished merchandise into and out of plant, warehouses and transportation terminals. Also, it simply enters the date and keeps tracking raw materials, spare elements, semi-finished, finished merchandise, spoiled merchandise, etc.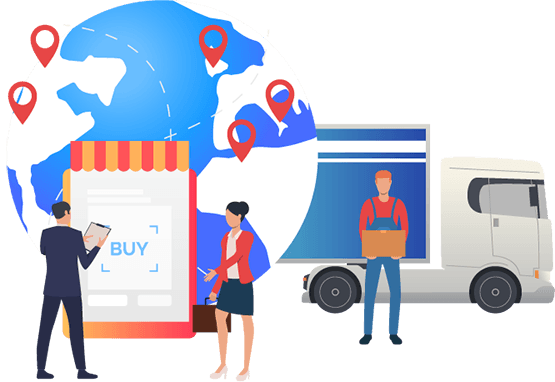 Premium Web/App Development Services to Expand Market Reach
Our next-gen development services for transportation and logistics business may be a good resolution incorporating sensible design templates, multi-language support, and simple navigation to kick-start and enhance your business reach to the next levels. We have a tendency to produce a website with two-interfaces to lock up fast communication between you and your purchasers. Our team at a logistics web development company near Delhi uses the latest tools and infuses advanced options thus you'll be able to relish a robust online presence to accent your business standards.
Choose Us for Your Transportation & Logistics Business Web Development
We have a respectable experience in developing fully-functional logistics and transportation management software systems with route optimization, time period fleet management, and advanced booking options. Our logistics and transportation web development company consultants will assist you with the following:
Mobile responsive logistics and transportation website styling and development.
Built-in administration systems to manage and track orders.
Moving from work to online management of accounts.
Innovative mobile apps for associate trade on the move.
Copy writing tailored to the availability chain that industries would like.