Innovative Zoho CRM Solutions Tailored To Business Needs
We offer numerous Zoho apps to enhance the productivity and profitability of the business. Every business needs a professional Zoho CRM service provider company to customize, optimize and deploy their business applications according to their business requirements. At beta soft technology we have highly skilled and potent developers who can enhance your business with suitable CRM customized applications as per your needs.
If you are looking for the best partner who can help you in developing your website or mobile app that represents your business perfectly with state-of-the-art features and functionalities, we are the solution. From consulting to support, from integrations to migration, we are providing comprehensive Zoho development services at reasonable rates. You only need to explain your business requirements and we will ensure you that your needs will be taken care of by our professional Zoho developers.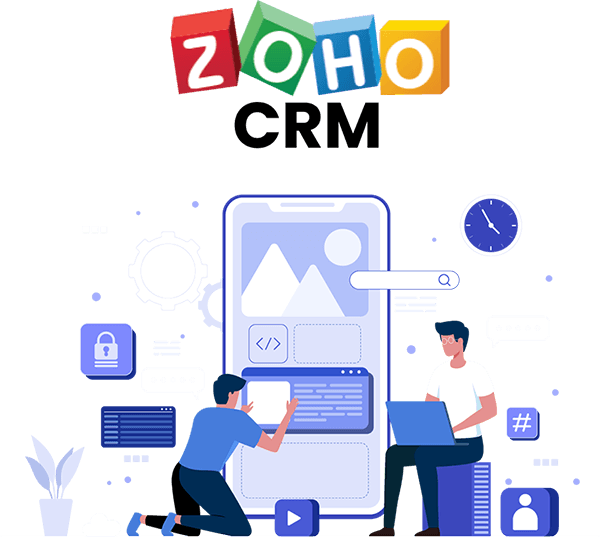 Our Solutions on The Zoho Platform
At Beta Soft Technology, Our Zoho developers provide robust solutions to businesses and help them to save their time, streamline work operations, increase productivity, and manage customer relationships. We develop dynamic Zoho apps tailored to today's business requirements. We offer complete Zoho CRM solutions, including Zoho One, Zoho Suites for management, and different Zoho apps for categories such as customer support, finance, sales, marketing, HR, legal, IT management, business intelligence, project management, email, analytics, and collaboration.
Extensions
We expand the features of Zoho CRMs by creating powerful extensions that enable intelligent workflows and integrate third-party apps.
Industrial CRM
We help to build CRM solutions for different industries, at a reasonable price range, powered by the Zoho customer relationship management system.
Customized Apps
We create custom applications using Zoho Creator to streamline business processes. Our developers create applications with our Zoho CRM service that work very well.
Rest APIs
We connect our Zoho CRM service with your business applications by using a programming language and our infrastructure.
Benefits of Zoho Implementation In Every Business
As we know that development and deployment of a new CRM software is a tedious task. Our experienced and professional developers are always ready to fulfill your needs related to the Zoho implementation. Our experts can complete all your essential tasks with the help of the latest tools and software to grow your valuable business.
We ensure the smooth functioning and transition of Zoho CRM with all the resources at a reasonable price range that suits your business. We proficiently migrate and help you to convert your valuable business data from the previous system to Zoho.
Why Choose Beta Soft Technology for Zoho CRM Development?
We are working with clients across the world hailing from distinct sectors and industries. Our experts know all about building a custom Zoho solution. We have the right blend of technology, personnel, expertise, and experience that is needed to transform the business.
Here we are committed to providing you with top-notch business solutions and helping you to uplift your business digitally. Our developers are highly qualified and aware of using Zoho tools and already-built Zoho apps. We know the right way to develop, customize, design, and implement Zoho solutions that boost performance and create a successful business model to deliver profits consistently.