Symfony Web Development Service Provider Company
Symfony is the best PHP web development framework that helps you build robust, secure, and enterprise-level applications. It is an open-source framework that is based on a Model-View-Controller paradigm. Beta Soft Technology is a Symfony development service provider company that provides customized and adaptable Symfony development services. Our aim is to modernize web and Symfony application development by providing code of PHP components and maintenance of the web apps. It consists of many powerful tools that facilitate fixing bugs and documenting the project. Symfony is a great choice for every type of web application.
Beta Soft Technology has adopted this technology with a great alliance of skills and thought. Symfony Web Development at Beta Soft Technology is accorded with the right understanding of the platform and a well-defined solution approach. Our professional resources do their brilliant bit to come out to your rescue. Symfony development has the right processes employed and is supported by authentic supplies of technology. By involving the development elements in development we ensure that there are no deviations in the optimum support & possibilities provided by the Model-View-Controller paradigm and finally the solution is conceived.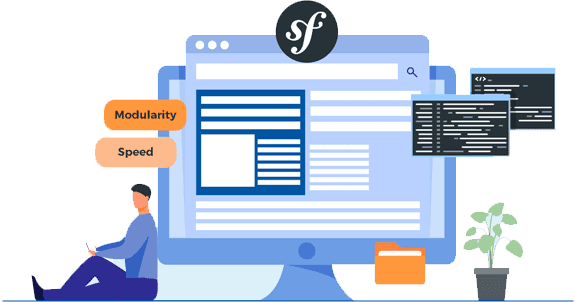 Key Benefits Of Symfony Development Services
Ease of use
Symfony Web Development framework has inbuilt professional support, it has the best practices to help beginners learn quickly. Symfony is recognized as one of the best documentations among the other PHP frameworks. Every part is well clarified and explained with examples.
Faster Development
We, at Beta Soft Technology, as a Symfony development service provider, develop highly scalable, robust, secure and customized websites for a variety of sizes & types of businesses.The inbuilt features of Symfony, speed up application development and it accelerates time-to-market by saving your significant time of development. It enables users to create robust, secure, and high-performance applications. .
High Flexibility
Regardless of whatever you want, Symfony is fully adaptable, with configurable and independent elements. Its dependency injector and event dispatcher make it entirely configurable. A Symfony developer can easily create complex applications with several
Large community
Symfony is an open-source framework, which means that PHP enthusiasts and specialists from all over the globe take part in making the code better. In this community, create new components, people support, and try to solve associated issues.
Stable & Sustainable
The Symfony Web Development release process assures compatibility and provides the best support for three years, although on security-related issues the company will offer you the lifetime support. Additionally, it ensures compatibility with the public APIs for additional functional benefits.
Services Offered By Beta Soft Technology
We provide the following Symfony development services to our clients across the country:
Symfony E-commerce Development
When it comes to eCommerce development solutions, we offer excellent services to our clients across the country. Our well-experienced Symfony developers team will help you with the functionality and appearance of your web store to build a new brand identity according to your needs.
Symfony Application Development
Symfony is a leading PHP framework with tremendous components for web and app development. Our professionals always offer you powerful and robust web applications powered by Symfony, that cover all your business requirements. We have a highly skilled and professional team of experts that is adaptable to the most advanced technologies.
Custom Theme Integration
Convert your design integration into reality with our Custom Symfony themes services and acquire a feature-rich, unique and compelling theme for your website. Our Symfony developers offer template design, and development and may assist you in integrating a theme.
Symfony Migration Services
The migration approach of Beta Soft Technology may be enforced with Symfony in many ways in which and may be wont to add new options within the existing application. Our dedicated Symfony specialists will assist you to get trouble-free migration from alternative technologies to Symfony with limitless extensibility.
Symfony Integration Services
We at Beta Soft Technology make sure that you're provided with solely the simplest potential integration solutions for your growing business. Our professional team understands the way to apply the perfection of Symfony to produce a seamless integration of third-party services and meet your business goals.
Support and Maintenance
Beta Soft Technology provides regular support and maintenance for Symfony Web Development services to our customers. Our team of skilled Symfony specialists monitor the products at each development stage and provide full assistance for your web application and website.