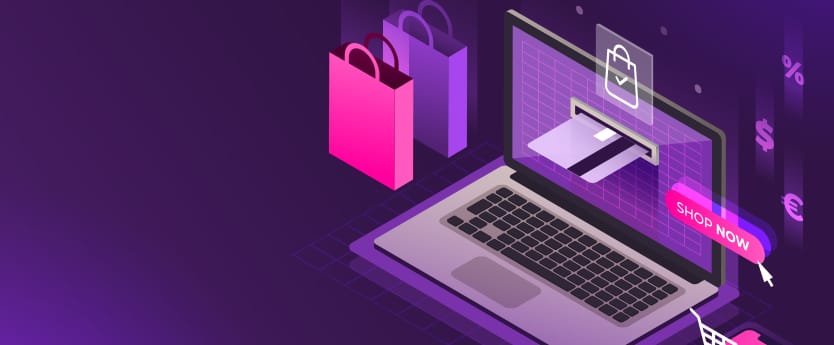 As the owner of an eCommerce business, it must have come to your mind at least once 'Why is Shopify booming for eCommerce business stores?'. It is very simple to understand. Shopify is an easy to set up, quick, and secure marketplace for eCommerce businesses that are occupying nearly 3.69% of the market space. Shopify became the hottest platform for online eCommerce business.
Shopify enables businesses to set up their online eCommerce stores in the desired way. It provides easy to operate online sellers and manufacturers on a secure network and also offers them 24*7 customer support. Shopify enables its users to create mobile-friendly eCommerce stores for their customers that are the need of the digital age.
You can hire professional developers to set up your Shopify stores if you do not have a development team. Or, set up your basic eCommerce Shopify store without having much technical knowledge. The best part about Shopify is that it is the best and easiest way to operate & manage an eCommerce business. The user interface of the Shopify store is really easy, and you do not need to take care of traffic surges and hosting charges. If you hire professional and dedicated Shopify developers, they do not charge as high as Magento and other eCommerce platforms
Now, let us discuss some awesome benefits of having a Shopify eCommerce store for business owners.
How to Find The Best Shopify Development Team?
Shopify offers a lot of benefits that set it apart from other online eCommerce platforms. The Shopify store is highly customizable and offers new-age tools to empower sellers and manufacturers. It has a dedicated gateway for nine payments and offers mobile-friendly features with great customer support. You can avail the best Shopify development services to benefit yourself with features to optimize your efforts. Read about the best ways to choose the best Shopify Development Company in India.
If you are wondering how to select the best Shopify development service provider company, here are a few factors you must have to look at.
Exceptional Communication Skills
It is good for a Shopify developer to have interactive and excellent communication skills so that they will communicate with you well through the development process of the project. As an ECommerce business owner, you need to be constantly updated about the status of the project. It would be great to contact developers directly to have real-time information about the project. A responsible Shopify developer should attend to your queries immediately and communicate with you regarding the project status.
Amazing Portfolio
Ensure that the team of developers who are working for your firm should have an amazing portfolio filled with multiple Shopify projects. And you should also have a look at the websites mentioned in the portfolio that will help you to know about the projects that are delivered by developers. Also check the accessibility, functionality, features, and speed of sites developed by them.
Look Into Client Reviews
Seek out a genuine Shopify eCommerce development agency that owns a good number of testimonials and client reviews on its official website. And if these reviews are from clients from the same industry, then it's good because it gives a clear idea about the product quality that they have delivered and how satisfied their customers are with the provided services.
Innovative and Unique Approach
It is best to not have a team of onboard developers who are delivering a cookie-cutter Shopify site having similar designs with few differences. Developers with unique and fresh ideas should always be welcomed.
Offer Guaranteed Satisfaction
Seek out a Shopify website development team that is very much keen to work on a project that fails to satisfy you completely. You deserve complete satisfaction with your valuable investment.
Providing Top-Notch UI/UX
Go for the Shopify development company that offers you top-notch UI/UX services. Ask your service provider for the catalog of some of their sample UIs and look for the functionality and variety. It is most essential to get options that suit the requirements of your business.
Advanced Functionality
If the Shopify store has multiple products and advanced elements, then functionality matters. If your Shopify ECommerce store has many integrations, then there are chances to affect the speed of your website. The Shopify web development company that you are choosing must ensure smooth functions and features.
Transaction Limitations and Integrations
All methods of payment should be available in your store. It will encourage your customers to buy your products with a comfort level. Transactional limitations and payment integrations at your Shopify store should be minimum so that your customers can buy multiple products to make bulk orders. Shopify website development services provider must ensure the server that works smoothly amid the heavy traffic.
Simplify Navigation
No matter how complex and highly functional your Shopify ECommerce store is, the ease of navigation functions is really important. Even if your website has a large category of products, your developers ensure you with easy searchability of categories and products on the homepage. The developer must include a sitemap to your website for a better understanding.
Affordable Pricing
Pricing is a very important factor that clients consider to choose a good Shopify development company. Companies might charge high prices for specific services, but the complete pricing of the service should be reasonable enough for long-term and large-scale projects.
After Support
So, if your website has been done correctly, there are still some problems that may affect your website further. To avoid such problems, you need to stay in touch with constant support from the website development firm. After all, whoever created the site has the best knowledge about how it works. So it is important to be there for support and maintenance once the project is completed.
Final Words
Outsourcing Shopify development service provider companies help sellers to create customized ECommerce stores that fulfill their requirements to serve their customers well. So it is important to outsource the best Shopify development services with technical expertise, rich experience, data security, and a transparent environment.
Beta Soft Technology is the best Shopify development company in India that offers high-quality and customized Shopify development solutions for all types of businesses at a reasonable cost and a quick turnaround time. To know more about how professional developers at Beta Soft Technology developed successful eCommerce websites with multilingual functionalities and features.